We are excited to give you a sneak peek at our new Resilite Wrestling & Athletic catalog. This new catalog showcases all of the great products Resilite has to offer.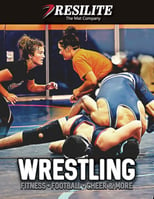 Our catalog cover is the first to show that both men and women equally play an important roll in continuing to grow the sport of wrestling.
The interior design uses large imagery with easy-to-follow icons to highlight the details and features of our mats and products.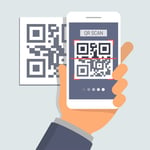 For some extra value and fun, we've also included a few QR code blocks that link directly to product videos.
Simply use the camera on your phone over the QR code and you will be directed to the video.
(Older phones may need a QR code app reader.)
Our Graphics & Marketing team did an outstanding job on the new catalog. No other mat company can compete with the tremendous efforts and abilities of our Resilite Graphics & Marketing Team.
A link to the New Resilite Wrestling & Athletic Catalog can be found here >> https://online.flippingbook.com/view/518299/
- - -
Products featured in the new Resilite Wrestling & Athletic Catalog:
LiteWeight DigiPrint Mats: Resilite's exclusive printing technology allows you to create vibrant, dramatic, and custom wrestling mats using high-resolution, photo-realistic graphics and images.
LiteWeight Zip Mats: The first and only interlocking connection system for a tape-free wrestling mat. Our innovative, patented connection technology creates a military-strong, water-tight seal that is easy to set-up and take-down.
LiteWeight Mats: Using the same exclusive hot-sprayed, vinyl-coated surface as Classic Mats, Resilite LiteWeight Mats have the same feel as our traditional two-sided Classic Mat, and their bright look and durable finish will last for years.
Classic Mats: Wrestlers, coaches, and officials prefer the look, feel, and comfort of the Classic Mat. Designed to be the longest-lasting and most durable mat available, the Classic Mat meets the high demands of customers with a variety of options and two complete wrestling surfaces.
LiteWeight Wall Padding: Resilite LiteWeight Wall Padding provides continuous protection and is easy to install.
Kwik-Stik Wall Padding: Kwik-Stik Wall Padding offers medium-to-heavy duty continuous protection - most commonly found in wrestling rooms.
Wainscot Wall Padding: Perfect for gymnasiums, fitness centers, basketball courts, and indoor walls - Wainscot Wall Padding Panels offer multiple protection types, sizes, and installation styles for maximum versatility. The durable 14-ounce reinforced laminate vinyl provides superior puncture, tear, and fire resistance in 12 fabric colors - or DigiPrint for a custom feature wall.
Fitness & Training: Beyond the mat, Resilite Fitness and Training Products are designed to create champions. Using only the finest materials available, each product is designed to withstand years of rigorous workouts and training sessions.
Football: College and high school football programs throughout the country use Resilite products for their athletes' training and conditioning programs.
Custom Padding Solutions: Minimize the risk of injury in gyms, athletic centers, and all-purpose rooms. With our customized padding options, it's easy to cover poles, beams, obstacles and obstructions of any size and shape. Simply select the shape you need, provide us with your measurements, and we'll take care of the rest.
Spirit & Cheer: Our cheer mats and skill shapes are designed to help athletes and coaches build the strong foundation necessary to develop competition-ready all-stars.
Supplies & Accessories: Your trusted one-stop-shop for all your wrestling mat needs.
Mat Decals & Student Award Mats: Fundraising made easy - and unique awards for your team, seniors, or athletes celebrating achievements.