Many times a school, gymnasium, rec center, or other facility will get several quotes on decking out their space with wall padding. Unfortunately, many will simply go forward with the cheapest option, only to be disappointed by the durability and quality. After a few short years of heavy use, wall padding can begin to deteriorate, leaving behind an unsafe surface and an unkempt look.
Enter Resilite.
Our Wainscot wall padding solutions not only look better and hold up longer, but they can also offer more impact protection inch for inch. While they may cost a bit more up-front than alternative solutions, you'll easily make that money back in the long run thanks to the superior longevity of our products. After all, buying Resilite once is cheaper than buying an inferior product three times over.
Learn more about Resilite's Wainscot Wall Padding Panels and why they're the perfect solution for any gym, training facility, club, arena, or center.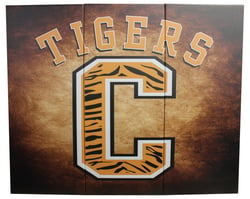 Effortless Installation
Unlike other continuous wall padding solutions, Wainscot Wall Panels are truly individualized panels, allowing you to cover as much or as little wall space as you desire. Instead of measuring your space and compromising on a solution that's either too short or too long, Wainscot panels allow you to order the exact number you'll need to adequately cover your space. Applications are easily completed thanks to not needing to maneuver and position one continuous piece around the perimeter of your space.
Easy Upkeep
Because Wainscot panels are individual, it's easier than ever to swap out well-loved panels for new ones. Some areas may see more traffic than others, so if any panels begin to lose their luster, you can easily replace it. By keeping your panels in tip-top shape, you help keep the folks who enjoy them safe and protected.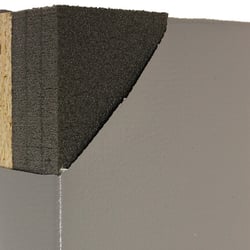 Multiple Thickness Options
We understand your space is unique, so your wall panels should reflect that. Wainscot panels come in a variety of thicknesses with various core types to meet your specific needs. We offer 1-3/8" closed-cell polyethylene foam core panels, 2" closed-cell polyethylene foam core panels, 1-3/8" closed-cell polyethylene foam core over ½" polyurethane base foam panels, and 1-1/4" fire-retardant foam core panels - find the perfect panel for your space.
Learn More About Wainscot Panel Types >
Quick Cleaning
Wainscot Wall Panels are thick, durable, and, most importantly, easy to keep clean. Made from the same durable vinyl Resilite mats are known for, Wainscot panels are easy to clean and disinfect. Because they are made from the highest-quality foams and fabrics, they hold up over repeated use. Cheaper mats that begin to crack and peel over time can become hazards for users, becoming harder to thoroughly disinfect. With Wainscot panels you can rest assured you're wiping away germs and bacteria - instead of wiping them into cracks in the mats.

Endless Customization
Resilite's exclusive DigiPrint technology enables you to deck out your Wainscot panels to perfectly match your space. Start by selecting one of 12 fabric colors and then add on high-resolution, photo-realistic graphics and images. Whether you want to feature a school name and mascot, display your business logo, or just add flair with cool designs, Resilite can make your vision come to life. The best part? All DigiPrint mats receive a color-enhancing topcoat that increases durability and makes them even easier to clean.
Shop DigiPrint Wainscot Wall Padding >
So no matter if you run a gymnastics center or a rec room, there are tons of reasons to invest the money in a quality wall padding setup. When you're ready to protect your space, consider Wainscot Wall Padding Panels from Resilite.