To build self-esteem and keep athletes safe, teach them how their body responds to nervousness and fear. When you teach athletes the physical signs and to be 'emotionally aware,' they will feel more intelligent, better able to manage their emotions, and feel more in control. This absolutely creates confidence and ease under pressure.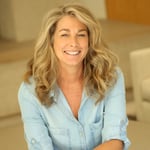 Lisa Mitzel, Author, Mental Training Coach, Former Stanford Gymnastics Head Coach, NCAA National Champion, and Advocate for Athlete Safety.
For consults and clinics, reach Lisa at HeyMitz@gmail.com.
Written and recorded by Lisa Mitzel.