The (postponed) 2020 Olympics are now in full swing in Tokyo, with top athletes from across the globe coming head-to-head in the hopes of securing gold for themselves and their country. This year's event will feature a record number of sports and events - with five new Olympic sports making their debut at the Tokyo games. According to the International Olympic Committee, that means there are a total of 339 medal events amid 42 venues this year.

Of these new sports, there is one that we here at Resilite are so excited to see getting the recognition it deserves. The event? Sport climbing.
About Olympic Sport Climbing
Sport climbing requires solid strength as well as flexibility, skill, and technique to scale steep, overhanging ascents. At the 2021 Tokyo Games, sport climbing will be featured as a single event. Overall men's and women's winners will be determined based on a combination of the sport's three primary disciplines - speed, bouldering, and lead. Unlike other traditional sport climbing competitions, which tend to separate the three disciplines into their own events, this year's Olympic athletes will compete and be judged in every discipline.
While we don't know exactly how many folks will tune in to watch the new event, past Olympic coverage gives us a rough estimate. At the last games in Rio, there was an average audience of 25.4 million people tuning in - actually a decrease from previous years. This means that hundreds of thousands of folks are expected to catch this year's competition, and there's no doubt going to be a few up-and-coming athletes inspired to give sport climbing a try.
Resilite & Climbing Athletes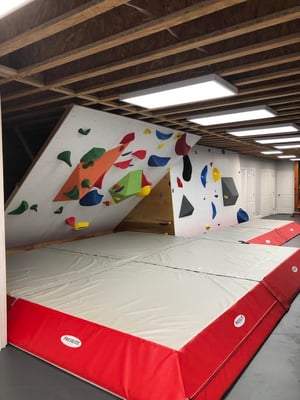 Resilite has been producing high-quality mats for a variety of recreational, competitive sport, institutional, and commercial applications. Over the last few years, we have experienced significant growth in climbing wall crash mats for rockwall & climbing facilities as the sport has taken off in popularity. Given our long history in developing and manufacturing high-impact landing mats used in the sport of gymnastics and stunt training, it's only natural that we forayed into climbing wall crash mats and other climbing wall pads.

If you're inspired by the Olympic sport climbing competitions and want to try your hand at the sport, we highly recommend checking out Resilite to get quality crash mats to keep you safe as you practice and compete. Let's dive into why Resilite Climbing Wall Mats are perfect for novice and experienced climbing athletes alike.
#1: An increase in popularity means greater demand for safety measures
The purpose of the climbing mat is to attenuate the shock of an unintended fall and minimize the probability of injury, while at the same time remaining stable underfoot. Because of this, every wall has different mat requirements. Variations could include dimensions of the fall area to be covered, mat height, foam core, and seam location covers. When all of these are taken into account, we're able to maximize the mat's overall performance.

No matter what your mat needs to handle, Resilite is sure to deliver a product that can withstand the impact and keep athletes safe. Resilite mats meet or exceed the ASTM 355 impact test and our polyethylene and polyurethane foam cores are some of the most shock-absorbing foams available. This means that every time a Resilite climbing mat is used, athletes are as protected as they can be.
#2: An increase in demand means a greater need for at-home solutions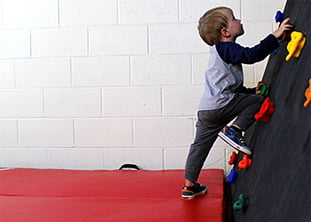 When training at home, it's important to have the proper equipment to keep you safe so you're not taking on any extra risk. Get the equipment you need to succeed from Resilite. Our custom padding solutions can be designed for indoor or outdoor applications and offer quality protection outside the gym. Get one, two, or twenty crash mats as needed and consider custom padding solutions to complete the space. If you're worried about restricting access to climbing walls when not actively training, consider our custom wall pads that attach securely to your wall when it's not in use.
#3: Safety is the difference that allows you to continue to practice the sport you love
With the wide range of climbing wall crash mat configurations and applications for the all different types of walls, each mat is considered custom for all intents and purposes. Resilite takes pride in consulting with our customers to help them determine which mat configuration will best meet their needs.
By having a mat tailored to your specific needs, you're less likely to suffer unintended consequences like injury after a fall or misstep. We want to see athletes excel in their sport, and the best way we know how to do that is keeping them safe as they train and compete.
Not Inspired by Sport Climbing?
Even if climbing isn't your event, Resilite has products that support a wide variety of Olympic sports. Check out how we help supply future Olympic gymnastic, wrestling, and martial arts athletes with the mats they need to succeed.