We are excited to announce that Resilite is the official distributor of ShotSled - the innovative tool to practice penetrations and explosions for combat sport athletes.
WHAT IS SHOTSLED?
ShotSled is specifically designed for combat sport athletes (wrestlers and MMA) to enhance their takedowns. ShotSled athletes can train solo or with a partner to offer more resistance.
Tandem use allows a partner to stand on the back and weigh the sled down – which forces the athlete to use more power and penetration to move the sled across the mat. For smaller athletes, ShotSled can be used alone. Partners of all different sizes can be added to ShotSled as long as they're available.
ShotSled is designed specifically for wrestling and combat sport athletes to develop powerful penetrations, takedowns, and explosions - making it the perfect complement for wrestling mats and MMA mats - giving athletes the ability to create the ultimate training facility.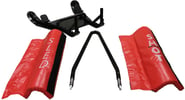 Diamond-plate footpegs provide a sturdy area for a training partner to stand - allowing for additional resistance and a more intense training session. Combine this with Resilite's Foam Plyo Boxes, athletes can build a fully-functional, full-body routine that will enhance agility, develop explosiveness, and stamina.
ShotSled slides on all kinds of wrestling mats without damage; and at 43lbs, ShotSled also collapses for easy transportation and storage.
To see the ShotSled in action, click the play button below.