Plyometric exercise and their beloved assistant, plyo boxes, are one of 2020's trendiest fitness crazes. Making their initial comeback in the crossfit scene, plyometric exercises are great because they cater to all skill levels and are easily included into your home workout or gym routine.
All you need is some floor space and your body weight. However, some of the most effective plyometric training exercises also incorporate gravity, which is why most fitness enthusiasts elevate their exercise with a plyo box. From jumping and step-ups to squats and dips, an adjustable plyo box is the perfect way to leverage your own bodyweight for the ultimate workout.

Choosing a Box: Why Resilite's 6-in-1 Plyo Box Stands Out
It's important to think about your goals when choosing a plyo box to accompany your workout. Versatility, durability, and size are three key factors that you should consider before buying a box. Let's dive into these features and see how Resilite's 6-in-1 Plyo Box stacks up.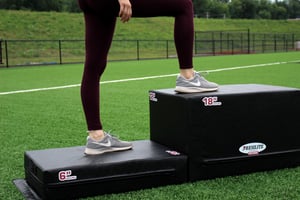 Versatility
Unlike a static plyo box or even a 3-in-1 box, Resilite's 6-in-1 Plyo Box offers a greater variety of heights and combinations, giving you many options for your plyo box exercises. Hook-and-loop tabs unfold the box, allowing you to have a 6 inch, 12 inch, and 18 inch box. Secure the top, and the rectangular design makes a 3-height plyo box, consisting of 20 inches, 24 inches, and 30 inches.
You get greater variety with a multi-level jump box, making it a workout tool that benefits many skill levels. Instead of buying, storing, and maintaining two (or even three) boxes, you have everything you need all together, all the time. Plyo boxes make for a great addition to any home or public gym, catering to all skill levels with their extreme versatility.
Durability
No matter which plyometric exercise you use a plyo box for, it's sure to receive it's fair share of wear and tear. Having a well designed, durable box is important given how much it's going to be jumped on and used for exercise activities. You don't want a box that could break or malfunction, which is why Resilite uses only the highest quality foam and materials for their adjustable plyo boxes.
Its durable, non-slip surface is perfectly suited for using the box for jumping, and, because it's a soft alternative to a wood or metal box, it's less likely to leave scrapes or bruises if you make a less-than-perfect jump. The non-slip coating and no-assembly-required design gives you the confidence to give it your all during each and every plyo box workout.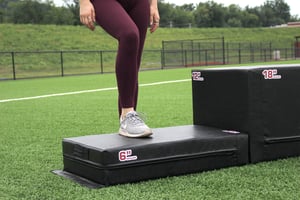 Size
Plyometric exercises are great because almost anyone can do them. But, when first beginning, it's important to not overdo it. For those of you just starting out with plyo boxes, you'll probably want to start with a smaller size box. As your skills and comfort level increase, you'll want to size up in order to get the maximum impact out of your workout.
Your box should be able to grow with you. With a versatile, adjustable plyo box, a quick zip, flip, or turn will get you more inches and let you keep challenging yourself. Using Resilite's 6-in-1 Plyo Box, you're able to slowly progress your skills to new heights without needing to spend more money or take up more space in your home gym.
Shop the 6-in-1 Adjustable Plyo Box Now >
Using a Box: Plyo Box Exercises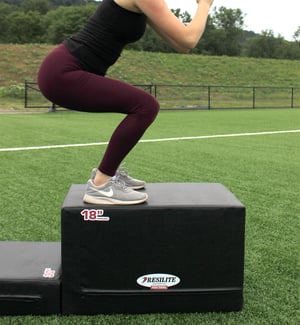 There are countless exercises you can perform with an adjustable plyo box. Here are a few of our favorites to inspire your own plyo box workout.
Box Jumps
Box jumps are a great way to build up strength and endurance while getting used to the 'explosive' body movements that make up plyometric workouts. If you're new to plyo box exercises, this is a great place to begin.
Set your plyo box to a safe height - anything from 6" to 20" is a good place to start.
Next, focus on engaging your larger, core muscle groups. Begin to squat down until your glutes and hamstrings are engaged.
Swing your arms back, gathering momentum as you tighten your core and bring your arms, knees, and feet all up into the box in one swift motion.
Land in a deep squat, with feet slightly turned out. Keep your knees bent to soften the landing.
Straighten up, using your glutes and hamstrings to propel you. Your core should remain engaged.
Jump back down off the box, landing with your knees bent to absorb the impact.
Work your box jump with both legs and each leg individually for maximum strength building.
Decline/Incline Push-ups
If you are already proficient at push-ups on the ground, then try kicking them up a notch by using your plyo box.
For decline push-ups, simply place both feet on top of the plyo box and place your hands on the floor in a push-up position. Perform your push-up, focusing on moving your body as one unit without allowing your neck or back to cave in or dip. We recommend starting at a lower height and slowly working your way up.

If decline push-ups are proving out of your league, try switching the positioning to do an inclined push-up instead. You'll still engage new muscles but have an easier time controlling your body since it's much closer to a "normal" push-up. For this exercise, again start at a low height and work yourself up as you go.
Single-leg Get-up
Show your box some love with this seated plyometric exercise. Starting with your box on the higher side, sit down on the box and slightly lift one foot off the floor. Then, stand up while keeping your balance on the supporting leg. Repeat on the opposite side. As you progress with this exercise, you'll be able to lower the height of the box to increase the stretch.
Learn More Great Plyo Box Exercises >
As you can see, an adjustable, plyometric box opens the door to many plyo exercises. The benefits are many and the downsides are few. So, if you're looking for an unbeatable box that offers unparalleled options at an affordable price, check out our 6-in-1 Plyo Box.