On October 11, 2019, Paul Gilbert, President of Resilite Sports Products, was inducted into the 2019 Class of Distinguished Alumni Society at Southern Columbia High School, his alma mater.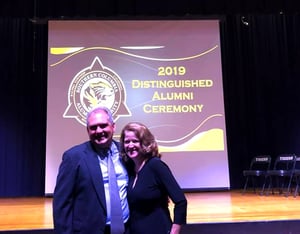 The Distinguished Alumnus Award was established to honor a graduate of Southern Columbia Area High School who has achieved success in their field of endeavor and/or has had a positive influence on the students and community of Southern Columbia Area.
On behalf of the entire team at Resilite, we send our sincere congratulation's to Paul, and his family, on this honor. Thank you for your tireless dedication to Resilite.
Resilite Sports Products is a world leader in manufacturing athletic mats and customized padding for a variety of industries, such as wrestling, gymnastics, cheer, law enforcement and martial arts. With nearly 60 years of experience, Resilite Sports Products offers a variety of athletic mats, wall padding, and sports products to meet a variety of needs for all types of athletic facilities as well as other market segments.
With a foundation built on innovation, Resilite grew from humble beginnings in a garage to the world's largest mat manufacturer. Six decades later, Resilite continues to exceed customers' expectations with quality products and unmatched customer service. With a continued commitment to excellence and success, Resilite proudly celebrates 60 years of business in 2019.