The progression of a sport is natural. When American football was introduced, there were no helmets or pads. Hockey sticks have changed from lumber to composite materials. Baseball now regulates the weight of their balls and bats. Wrestling was certainly not immune to innovation. Originally using mats of compressed horsehair stuffed into a canvas cover, mat burns were common, infection rates were high, and cleaning between matches was virtually impossible.
This all changed in 1959 with the help of Warren F. Tischler.

Warren founded Resilite Sport Products, and proceeded to develop the insular foam mat that is the standard in use in the world today. His new wrestling mat was manufactured with PVC rubber nitrile foam covered with a PVC vinyl painted surface, making it more resilient, lighter, and safer than the old canvas mats. Simply put, his innovation had a permanent impact on the sport, revolutionizing wrestling mat design for decades to come.
Not All Mats Are Created Equal
Of course, since Warren's revolution of wrestling mats, many other companies have tried to offer their take on the exceptional product. From prominent companies like Dollumar and AK Athletics to new ventures like EZ Flex, there are lots of options out there for purchasing wrestling surfaces. However, it's important to remember that not all mats are created equal. And, at the end of the day, you get what you pay for. Let us break down just a few differentiators that help Resilite wrestling mats stand out from the competition.
You get a product with maximum longevity. Resilite Classic Mats are double-sided, giving you two complete wrestling surfaces and thereby doubling the life of the mat. They're coated on all sides with our exclusive #457 poly-vinyl coating leaving no exposed foam - they can even be reconditioned for extended use. Even approaching 20 years old, a well maintained Resilite mat can be continually look and perform like new.
You get the best impact protection, inch for inch. The Resilite "G-Max Approved" seal indicates that our mats meet or exceed the ASTM 355 impact test, and our closed-cell rubber nitrile foam core is one of the most shock-absorbing foams for its thickness. This means that every time you use your Resilite wrestling mat, you can rest assured that athletes are as protected as they can be.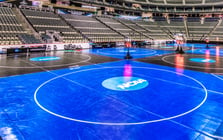 You get a product that's made for you. Resilite offers a variety of standard mat sizes that meet NCAA and NFHS guidelines as well as custom size and layout options to meet your needs. We offer 25 standard mat colors and an extensive selection of standard fonts. Our design team can even help create custom artwork and graphics that make your mat uniquely yours.
You get a long-term, high-value investment. The closed-cell rubber nitrile foam core is the longest-lasting foam available. With their higher density and greater thickness, Resilite mats can last up to twice as long as standard lightweight mats.
You get the most hygienic mat on the market. Only Resilite offers mats with built-in antimicrobial protection. Microban® is infused into both sides of the mat during manufacturing to provide continuous protection against the bacteria, mold, and mildew that can cause stains, odors, and degradation. Microban® can even be added to an existing mat during the reconditioning process.
Wrestlers, coaches, and parents depend on Resilite mats - and they constantly and continually meet the high demands of their customers.
Learn More About Resilite Classic Wrestling Mats >
Surpassing Our Competitors
There are many aspects that make Resilite mats stand out compared to competitors, which is part of why we've become the go-to name in wrestling. From foam type and density to color and customizable options, see some of the reasons why Resilite has progressed past our competitors to become the official mat of the NCAA Wrestling Championships.
| | | |
| --- | --- | --- |
| Feature | Resilite Mats | Competitor's Mats |
| Foam type | Closed Cell Elastimeric | Closed Cell Polyethylene |
| Foam density | 4.7 lb | 2.2 lb |
| Double-sided | Yes | No |
| Wrestling surface | Hot-spray poly-vinyl coating | Vinyl fabric |
| Standard color options | 25 colors | 8-12 colors |
| Sections & sizes | 1, 3, or 5 pieces, sections up to 50' wide | 6'-wide sections |
| Reconditioning available | Yes | No |
It's easy to see how and why Resilite continues to exceed customers' expectations. With quality products that have been trusted for over six decades, we're proud to offer the highest-quality mats at the most competitive prices. From their impact protection and longevity to hygiene benefits and customization options, Resilite wrestling mats are here to help every athlete perform, and become, their best.
NCAA is a registered trademark of the National Collegiate Athletic Association.