Mixed Martial Arts (MMA) combines various elements of combat sports and martial arts to form a truly unique full-contact sport. Centered around striking, grappling, and ground fighting, MMA as we know it today was first introduced in 1993 in a review of the Ultimate Fighting Championship (UFC) - which is widely considered to be the first modern MMA event.
It's widely accepted that there are three main fighting disciplines in MMA - stand-up, clinch, and ground. Of these three discipline areas, both clinch and ground fighting are incredibly influenced by wrestling techniques, along with jiu jitsu, judo, and kickboxing. For beginners looking to get started in MMA, it's highly recommended to focus on jiu jitsu and wrestling, as they are incredibly effective in teaching you how to control your opponent's body and take them to the ground. And, as is true of learning any new sport, it's important to take precautions to ensure your health and safety to avoid injury. This is where Resilite can help.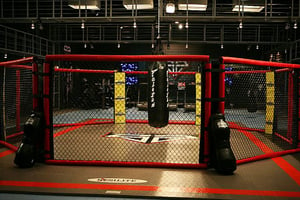 Resilite's Classic Mats for MMA
Given that MMA is a sport centered around strength, stamina, and discipline, the importance of safe, continual training cannot be underestimated. Resilite Classic Mats are perfectly designed to be the longest-lasting and most durable mats available for training and performing a variety of contact sports - including Wrestling, Martial Arts, Football, and of course, MMA.
Learn more about why and how Classic Mats meet the highest training standards and MMA athlete demands.
Greater impact protection
Resilite Classic Mats meet or exceed the ASTM 355 impact test, offering the best impact protection inch-for-inch. The shock-absorbing foam means less stress on the body during training, which lets athletes train harder and recover faster than if using sub-par training surfaces.
Longer mat life
All Classic Mats are double-sided, giving you two complete training surfaces and doubling the life of the mat. Customize your mat to mimic an octagon ring or personalize it with your gym/athlete's logo. Plus, all mats are fully coated with Resilite's exclusive #457 poly-vinyl coating leaving no exposed foam. Resilite proudly offers reconditioning, allowing you to get extended use from a single mat.
Given that many up and coming MMA athletes are former wrestlers themselves, they have likely grown up wrestling on Resilite Classic Mats. Made from closed-cell rubber nitrile foam with over twice the foam density than a lightweight mat, Resilite Classic Mats keeps athletes safe and protected as they train and fight.
Cleaner training surfaces
You can't train or fight if you don't feel your best. Only Resilite offers mats with built-in antimicrobial protection. Microban® is infused into both sides of the mat during manufacturing to provide continuous protection against the bacteria, mold, and mildew that can cause stains, odors, and degradation. Microban® can even be added to an existing mat during the reconditioning process.
Learn More // Resilite Classic Mats >
Resilite Accessories for MMA
Not only does Resilite offer quality mats for MMA training and fighting, we also offer other tools that help athletes take their training to the next level.

Training ShotSled
Empowering your takedown - ShotSled is a patent-pending training tool specifically designed for combat sport athletes to work on powerful penetration, takedowns, and explosions.
Designed for combat sport athletes to practice repeated throws, falls, and landings. Perfect for environments where training requires an additional, softer, landing mat.
Octagon Corner Pads
Resilite can help pad an entire training area for wall-to-wall and fence-to-fence protection. From octagon corner pads to cage and fence rail padding, we have solutions to cover unique areas or obstructions.
No matter if you are a MMA gym owner looking to upgrade your facilities or a training athlete looking to progress your skills, you'll find that Resilite has the equipment you need to train harder, train smarter, and train safer.