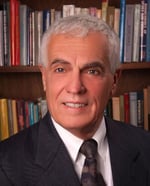 "From the Desk of Gerald S. George, Ph.D."
One of the most important factors to insuring a safe training environment in gymnastics centers upon providing the proper matting set-up for the given learning activity. And this is particularly true as it relates to the selection of matting for use with skill progressions in Vaulting.
While matting alone should never be used in place of skill progressions, selection of the proper matting set-up remains an essential first-step to insuring a reasonably safe environment. A matting set-up that has been specifically designed and tailored to enhance safe and effective skill progressions is what the industry expects.
And that is why innovative products such as the Vault Table Target Pad as well as their Vault Development System by Resilite remain top choices of coaches-in-the-know for progressive skill training in Vaulting.
Shop all Vault Development Products here.
---
To read more about Dr. Gerald George and his biomechanical techniques for shaping winners, purchase his newest textbook –Championship Gymnastics – which has been the best-selling gymnastics textbook internationally for over 7 years.
Championship Gymnastics has been formally adopted by Gymnastics Australia as their elite coaches' educational textbook, and is currently being used in 49 countries worldwide.
Visit WinningGymnastics.com for a more in-depth look inside the book and to place your order.
Written by Dr. Gerald S. George, Ph.D. For more information on Dr. Gerald George, please click here.