Ready to ditch the overpriced gym membership and get fit at home? You're in good company. But, before you run out to buy your yoga mat, treadmill, and free weights, take some time to consider what you really want to get from your home gym. Think about the exercises you want to do, the space you have to work with, and the equipment you'll need to actually accomplish your fitness goals. Do you really want that treadmill? Will you need home gym wall panels? What about storage space for when the "gym" has to actually be a spare bedroom? There is a lot to consider when you're creating a small home gym.
Do you already have a home gym that you use even less than your gym membership? Perhaps all you're in need of is an upgrade, like adding new equipment to your existing space or making some affordable cosmetic changes or upgrades. After all, if the space doesn't serve your needs, then it's almost the same as not having it at all.
No matter if you're just starting out on your home fitness journey or are a seasoned home workout aficionado, here are a few easy tips on how to create a home gym or upgrade your home gym equipment. After all, your workout is challenging enough; creating a space should be easy. Let's dive into a few simple pieces of multi-purpose equipment that will elevate your workouts and transform your space.
Functional Fitness Mat(s)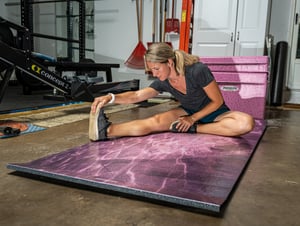 While not every exercise requires the need for padded flooring, fitness mats help to create functional workout spaces. There are lots of reasons you may want to consider a fitness mat - here's just a few.
If you're exercising with weights, you may be required to drop weights quickly to avoid injury; a padded floor keeps your space protected.
If you're exercising using your own body weight on the floor (yoga, pilates, or other calisthenic workouts), a mat helps create a cushioned space for you to practice.
If you're exercising in a multi-use home gym space (aka it's also your office, your garage, your spare bedroom, etc.), a mat creates a barrier between you and a dirty floor, helping to keep you healthy as you get fit.
If you are planning on doing any of these types of exercises or are planning on exercising in these types of spaces, then a functional fitness mat may be for you. It's a critical piece that comes in handy for a wide range of desired home gym uses.
Shop Resilite Functional Fitness Mats >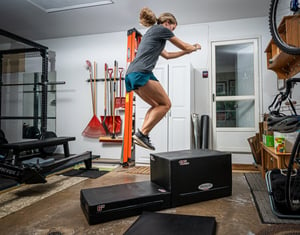 6-in-1 Plyo Box
Plyometric exercises are often accompanied by plyo boxes, aka sturdy block surfaces designed to be stepped on, jumped on, sat on, and more. Plyo boxes, especially an adjustable version like Resilite's 6-in-1 box, are a great home gym tool because they cater to all skill levels and are easily included into any home workout routine.
Plyo boxes are great given their versatility, durability, and size. By purchasing an adjustable box, you'll get a greater variety of heights and combinations that can be translated to many different workouts. Instead of buying, storing, and maintaining two (or even three) boxes, you have everything you need all together, all the time, in an adjustable box. Whether you're looking to build arm, chest, and core strength with elevated push ups and knee touches or just looking for conditioning and leg strength with step-ups and box jumps, you'll be able to get a thorough workout with a plyo box.
Column Padding
Column or protrusion padding is a great idea if your workout space is a bit more cramped or inhibited than you would like. Accidents can happen anytime and to anyone, so it never hurts to preemptively prepare for a less than perfect workout.
From padding door frames and walkways to cushioning support columns or poles, it's important to make sure that any surfaces that could cause injury are safely padded for your protection. Home gym wall panels can also be useful if you plan on doing lots of wall-based exercises or just know you'll end up running into them at some point. By transforming the hazard, you're able to workout in peace and worry less about accidentally kicking, striking, or running into a cable, pole, beam, or other piece of equipment.
Shop Resilite Protective Padding >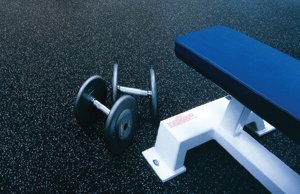 Weight Room Flooring
If your home gym is going to feature a bench press, free weights, or even kettlebells and medicine balls, it's worth looking into weight room flooring. Not only will they help protect the floor from the heavy equipment you're using, but they also create a safer surface for your workout. Flooring can provide important traction, especially if you're exercising on a slippery floor or an area of your home that could get dusty/dirty frequently. By adding a bit of rubberized grip, you're less likely to accidentally slip or fall while using weights.
Shop Resilite Weight Room Flooring >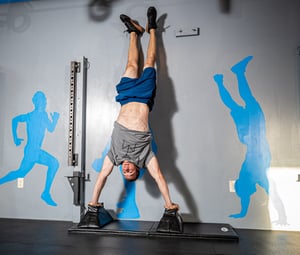 Fitness Balance Trainers
Similar to a plyo box, fitness balance trainers are another huge asset when doing calisthenics or plyometric exercises. Often rubberized and made of vinyl or a similar material, they are perfect for working various fitness areas, like balance, endurance, stability, and strength. Set on a wide base with a smaller top block, these pyramid-like trainers can help with everything from squats to inverted wall push ups.
Balance trainers have a place in many home exercise practices, including as an assist for yoga and pilates or to be used in handstands, walking handstands, and inverted push ups.They also can be used more passively to help with simple stretches, range of motion exercises, or even as an additional height tool when paired with a plyo box.
Shop Resilite Balance Trainers >
---
Now that you know how to create a home gym and stock it with versatile products that serve a purpose - put it to good use! Whether you're looking to invite a friend to sweat with you or are ready for a solo workout, you can now do it safely and easily from the privacy of your home.