Nobody aspires to be mediocre - and this is especially true of athletes. Athletes don't spend hours in the gym hoping to be "okay" at their next competition, match, or race. Athletes don't invest their sweat and their time into practice just because it is something to do. Rather, athletes give their all to their sport, pushing themselves to become a force to be reckoned with in the hopes of winning big at their next competition or match. At Resilite, we want to inspire athletes of all sports to be their very best.
Given our company was founded around wrestling, we are the go-to choice for everything a wrestler needs to practice and perform their best. And, we know that our Home-Use Wrestling Mats are the easiest way for dedicated wrestlers to grow and improve their skills from the comfort and privacy of their home. All of our Home-Use Mats are constructed from the same high-quality materials as our full-sized competition mats, making Resilite home-use wrestling and grappling practice mats as close to the real-deal as possible. As the preferred brand of coaches, wrestlers, and officials worldwide, Resilite mats help athletes train like a champion.
Why Use Resilite At Home?
Here are four proven ways a Resilite Home-Use Wrestling Mat will help you become a powerful competitor:
Shop Home-Use Wrestling Mats >
Complete Your Home Practice Room
Not only does Resilite offer quality Home-Use Mats for training and practice, we also offer other accessories that will complete your at-home practice space.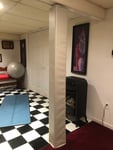 Column Padding
Cover posts, obstructions, I-beams, and support columns of any size with custom column padding. Perfect for protecting every inch of your practice area.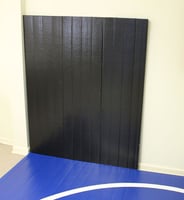 Home-Use Wall Padding Kit
The home-use wall padding kit makes it easy to create an area for training and practice in your house, basement, or garage. Each kit includes 5 panels that can cover 6'8" of wall.
Shop Home Use Wall Padding Kits >
With long-lasting products that have been trusted for over six decades, Resilite is proud to offer the highest-quality mats at the most competitive prices. From their impact protection and to customization options, Resilite Home-Use mats are here to help every athlete perform, and become, their best.