Resilite has been the go-to name in wrestling for mats for decades, protecting athletes as they train and compete at the highest level. But Resilite understands that true athletes are the ones who give it their all both in the gym and outside of it, which is why we proudly offer Home-Use training mats.
For years, these home-use mats have been the most reliable and easiest way for dedicated athletes to improve their skills from the comfort and privacy of their home. All of our home-use practice mats are constructed from the same high-quality materials as our full-sized competition mats, giving you an at-home experience that's as close to the real-deal as possible. Unsurprisingly, they're in high demand and are one of the products we sell at a very high frequency.
We're making a change to some of the Home-Use Wrestling and Martial Arts Mats you know and love, and we think it's important you understand why.
All orders fulfilled from our facility go through a series of scans at shipping checkpoints along the way. A certain amount of settling, unrolling, and shifting in the packaging is normal and to be expected. Despite meeting maximum size requirements when they set out, packages containing our 5'x10' and 10'x10' mats are quickly exceeding it throughout the duration of their journey, causing us to incur extreme shipping overages.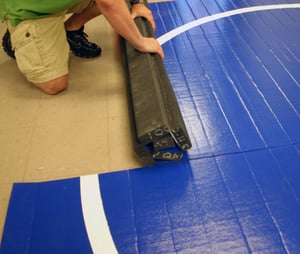 It's our goal to continue to offer you the best products at a competitive price. To do so, and in order not to pass extra charges on to our customers, we're adjusting the size of some of our home-use mats slightly. Our 10'x10' mats will now measure roughly 9'10"x9'10"; one-piece mat sections will measure approximately 5'x9'10". By cutting back an inch or two, we're able to continue to make the highest quality home-use wrestling mats around, without passing the buck (literally) to our customers.
We know some of you may be disappointed by this minor size decrease, but to us, it was an easy decision. We believe that sacrificing ~4" of an almost 100 square foot area, while keeping shipping costs flat and maintaining the highest quality and protection, is the right thing to do. The only other way to potentially avoid this shipping problem would be to decrease the thickness of our mats (thereby decreasing their impact protection and putting athletes at risk). While some of our competitors may consider this an acceptable solution to keep their mats a full 10' x10', we don't condone decreasing the protection or quality of our mats for any reason.

Rest assured, the quality of your product won't change, the order fulfillment time won't change, and the price and shipping charges won't change. We thank you for your understanding and are humbled and honored by all coaches, parents, and athletes who continue to purchase and practice on Resilite mats.
If you have any questions or concerns, please call us at 1-800-843-6287 Monday through Friday 9AM to 5PM.
Thank you.