Resilite offers a vast line of innovative and progressive gymnastics products designed to help athletes improve their form and technique. Gymnasts can train smarter with products that keep them safe and train harder on materials created to withstand repetitive impact as they perfect their skills.
High-Quality Gymnastics Accessories
All of Resilite's gymnastics equipment is built for performance and repetitive impact. Featuring only the highest-quality foams and fabrics Resilite is known for, our gymnastic products help athletes train their best while offering peace of mind. Our products meet and exceed all impact protection standards, helping mitigate injury and reduce stress on the body during high-impact, high-rep drills. Plus, because our products are made from heavy-duty vinyl, they can withstand the test of time while still being easy to clean and disinfect.
Browse some of our most popular gymnastic mats and accessories.
Skill Development AT HOME
Athletes need to practice in order to fully grasp new tricks or skills. Check out some of our most popular products for helping gymnasts practice their skills at home.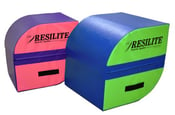 Smarter Spotters - Ready-to-Ship
Resilite makes it easy for students to learn proper technique with our smarter spotters and expansion wrap sets. From beginner to expert, we help students master a variety of tumbling drills.
Shop Ready-to-Ship Smarter Spotters >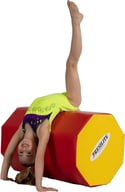 Octagon Barrels
It can be hard to learn back handsprings and walkovers. Luckily, octagon barrels make it easy to master these stunts.
Train cheerleaders to develop their core and ankle strength with our rubberized balance trainer. Not only does it improve technique, it helps build body stability and increases hold duration.
The reinforced PVC bar of Resilite's parallette bars flex just like a competition bar, allowing your gymnasts to train on the same surfaces they'll compete with. This 54" long bar sits securing off the floor and features wide, secure brackets.
Performance Mats FOR YOUR FACILITY
Gymnasts need mats to keep them safe as they learn new skills. Give them the highest quality products with the best impact protection - give them a Resilite mat. We invite you to browse our wide selection of performance mats.
Sometimes you need to fall when learning how to fly. Thankfully, Resilite will always be there the cushion the fall with a wide variety of throw mats and skill cushions. Perfect for under bars, vaults, and any other place your gymnasts may land.
Show Throw Mats & Skill Cushions >
Competition Landing Mats
The Resilite quality and options you have come to expect for landing mats. From floor routines to skill landing mats, we have the perfect products to keep athletes safe. Shop Competition Landing Mats >
Resi-Pits are Resilite's proprietary alternative to open foam pits. This versatile above-ground training mat is constructed with a dual-density foam core that's sure to provide plenty of cushion for training gymnasts.
Vault Development
Vault is a difficult skill to master - but Resilite does its best to make it easy. We offer a range of products, from runway tape measures to run-up mats, that help gymnasts grow their skills. Get everything you need to start vaulting today. Shop Vault Development Products >
Apparatus Mats & Pads
From apparatus mats to spotting blocks, there are a variety of gymnastic accessories that make learning and training easier. Check out our selection of apparatus mats & pads.
Fitted Apparatus Mats
From cable covers and bar pads to vault and pommel horse fitted mats, we have a large selection of accessories that help keep your space safe.
From extra wide foam beams to full-size beams, we have a variety of options that will be perfectly suited to your space and your needs.
Spotting Blocks
Perfect for anywhere in your gym, spotting blocks and trapezoids help ensure the safety of your athletes as they practice new skills. Perfect for minimal support of full contact.
Whether you need tumble tramp skirting or sloped floor borders, Resilite has a wide selection of flooring options to finish your space.
Resilite Offers Custom Options
Customization is our specialty! If you don't see the right size to fit your space, we invite you to contact us! We offer a variety of vinyl fabric colors and even offer custom lettering and artwork to perfectly customize your new gymnastics accessories to your training space.