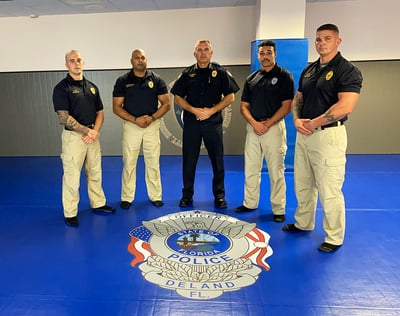 When it came time to outfit their training room with tactical training mats and wall padding, DeLand Police Department turned to Resilite as their mat supplier.
Resilite's law enforcement training mats are made to handle the intense training, impact, and punishment of military and police combative and defensive training classes.
Resilite is the only company that offers both LiteWeight and Classic Training Mats. Every Resilite mat meets or exceeds ASTM F-355 Impact Testing, is proudly made in America, and offers unparalleled options and outstanding customer support after the sale.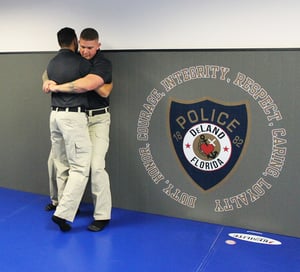 TRAINING FACILITY WALL PADDING
For portability and ease of installation, DeLand Police Department opted to go with LiteWeight Wall Padding. Resilite LiteWeight Wall Padding is quick and easy to install; and the continuous wall padding provides protection around the full perimeter of the room. For the DeLand Police Department, the LiteWeight Wall Padding provides enough protection for peace of mind during tactical and defensive training and offers a comfortable training surface to practice law enforcement drills against a wall.
To pad a column in the training room, DeLand Police Department measured all sides of the column and provided the information to Resilite for a custom column pad. Not only does the pad fit perfectly, it protects the officers against accidental contact with the column and matches the room beautifully.
Want to get a price quote for your department? CLICK HERE.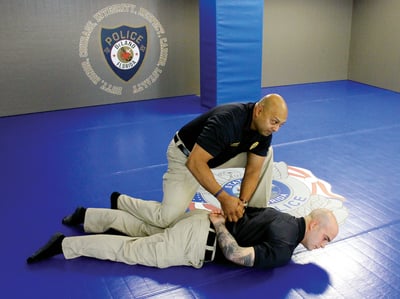 TACTICAL TRAINING MATS
With the future in mind, the DeLand Police Department chose Resilite's tape-free LiteWeight Zip Mat. Resilite's patented Zip Mat is the only lightweight training mat on the market with an interlocking connection system.

In a room that may be used for other activities, DeLand Police Department needed a tactical training mat that could be set-up and removed

quickly and easily, was lightweight, portable, and stored just as easily. Plus, t

he Zip Mat's rubber track system prevents liquids and debris from going below the mat's surface for a clean and sanitary training mat.

LAW ENFORCEMENT DEFENSIVE TRAINING LANDING MATS
In addition to the wall padding and training mats, DeLand Police Department also purchased a 5ft x 10ft Crash Landing Mat. The Crash Mat allows the officers to practice take-downs, such as throws and trips during defensive training scenarios.
Many thanks to the officers of DeLand Police Department (Florida) for allowing Resilite to photograph their facility, their training, and for choosing Resilite to outfit their police training room with Resilite products.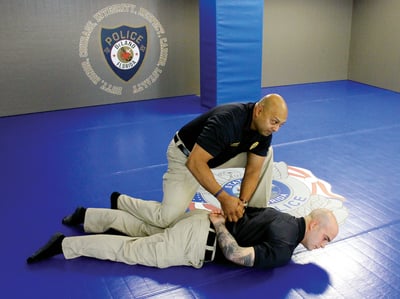 ADDITIONAL TACTICAL AND DEFENSIVE TRAINING MATS AND PADDING