With Lisa Mitzel and Special Guest Danell Leyva
Lisa writes - I got to interview an amazing gymnast, 2-Time Olympian and 3-Time Olympic medalist, Danell Leyva. What a humble and terrific guy. In training for the Olympics, Danell describes his challenges with anger and anxiety. He shares how he identified the root problem, found help to manage his emotions, started to release his anxiety outward and loudly (which is funny), and used tools to focus and perform great in competition. Danell learned about his "center" and getting in tune with himself, and it started with using communication.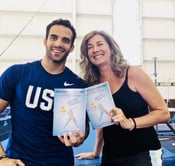 Mental and Emotional well-being is vital in sports and life. For athletes to gain insight to themselves and learn how to manage thoughts and feelings, Focused and On Fire: The Athlete's Guide to Mental Training & Kicking Butt, can inspire and teach the most positive mental skills.
You can buy the book here. Thanks!
Lisa Mitzel, Author, Mental Training Coach, Former Stanford Gymnastics Head Coach, NCAA National Champion, and Advocate for Athlete Safety.
For consults and clinics, reach Lisa at HeyMitz@gmail.com.
Written and recorded by Lisa Mitzel.