For over 60 years, Resilite has been producing high-quality mats for a variety of Recreational, Competitive Sport, Institutional, and Commercial applications. Over the last few years, we have experienced significant growth in climbing wall crash mats for rockwall & climbing facilities.
By Scott Roth, VP New Business Development Mats & Padding, Resilite Sports Products, Inc.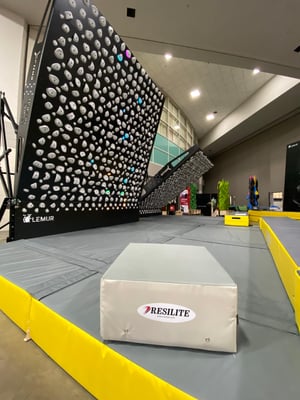 Our experience here is rooted in our long history in developing and manufacturing high impact landing mats used in the sport of gymnastics and stunt training. The type of climbing wall crash mats required for climbing areas may be relative to the wall type, climbing styles, user's skill level, or a combination of all three.
Public and Private Schools, University and Public Recreational centers, Ninja Facilities, Home Practice Walls, and Sport Specific Climbing Facilities are examples where climbing gym crash pads, bouldering mats, and rock climbing mats are needed for both recreational and the sport climbing. >> Need mats? Request a quote now. <<
The purpose of the climbing mat is to attenuate the shock of an unintended fall and minimize the probability of injury, and at the same time remain stable under foot. Every wall has different requirements. This could include dimensions of the fall area to be covered, mat height, foam core, and seam location covers to maximize the mats overall performance.
With the wide range of climbing wall crash mat configurations and applications for the all different types of walls, each mat, for all intents and purposes, is custom. Resilite takes pride in consulting with our customers to help them determine which mat configuration will best meet their needs. >> Request a quote.
For questions or to get started on your project, please email scott@resilite.com.
Q&A with Scott Roth / from August-September Issue of Inside ActionSports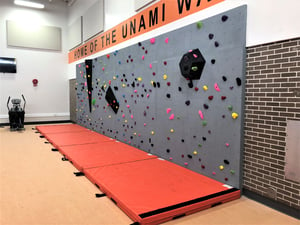 Resilite Sports Products, Inc has a long standing history amongst action driven athletics and sports. Share with our readers a brief bio of Resilite!
I have spent most of my life involved in the sport of gymnastics as a competitive gymnast, coach, and for the last 34 years, in sales, marketing, and product development. In the time spent in product development, I came to understand that shock attenuation products were needed across a broad range of sports and recreational activities. Not only for sport and recreational applications, but more so today for personal home use. Arriving at Resilite in 2013, the CEO encouraged me to look at parallel market opportunities and develop strategies using our existing product knowledge and manufacturing capacity. Today, we have the flexibility and capacity to manufacture a wide range of custom mats and padding products for almost any application.
How have you seen gym facilities transitioning to accommodate the interests of athletes seeking a variety of action sports activities? For example, a gymnastics facility opening up its areas for parkour athletes, stunt athletes, etc.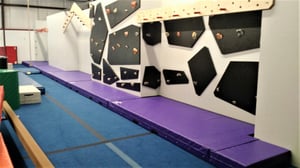 Gymnastics for young children is an excellent option to improve their motor skills. Unfortunately, due to a lot of necessary repetition, it can also become tedious and boring. Keeping kids engaged and in the gym requires a curriculum that stays fresh and easily updated or reconfigured. The addition of a Ninja or Rockwall Climbing experience can give the business additional revenue streams. And what a great way for children to build strength and dexterity that will stay with them for future physical activities.
Recently, I have seen facilities transition to accommodate their clients in new endeavors. As an example, on TV when a Ninja misses, they dropped into a tank of water. In a training facility designed to help the Ninja develop their skill set, it would be a mess if they got wet every time they missed. So, we were naturally positioned to meet the needs of the rapidly evolving Ninja market. Rock Climbing Mats and Bouldering Mats are another example of what I saw as a relatively seamless entry into a parallel market.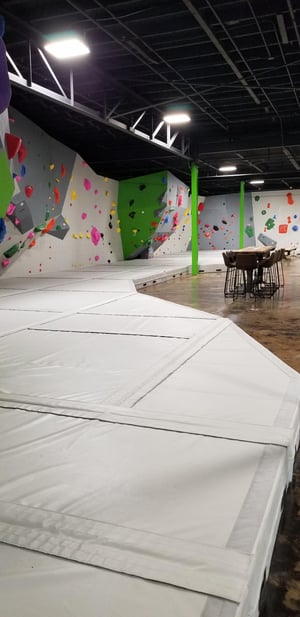 Does this growth excite you as an equipment company?
Yes, I love this part of the job! Product development and new opportunities are what keeps me awake at night. One of the projects I am currently working on has to do with higher drop impact testing on climbing wall crash mats. While there is no existing U.S. standard that is set in stone, no pun intended, we need to pursue best use materials to mitigate risk and minimize the probability of an injury due to a fall.
You mention that crash mats and crash pads differ between all training facilities and set ups. How many varieties would you say there are and are they consistently changing and advancing?
Where and how a mat is used within a facility may call for different foam configurations or attenuation characteristics. The most difficult part of developing a mat for a broad range of impact scenarios is establishing the type and/or configuration of the foam to be used in its construction. When you think about it, at one end of the spectrum is for the mat to function effectively in a worst-case scenario, or what I refer to as an unintended landing. On the other end of the spectrum, the mat may also need to be stable enough under-foot to effectively function for an intended landing, feet first.
To quote one of my mentors; softer does not necessarily mean better. The intended application of a mat in the gym helps to determine the optimal density/ILD of the foam core, as well as how it is layered. As a rule of thumb, there is no mat that can eliminate the possibility of an injury but using the right mat can substantially reduce the probability of one. As far as foam evolution is concerned, the types of foam(s) used in landing mats has evolved over the years. Not to date myself, when I started in gymnastics, we used very thin (and very unforgiving) horsehair landing mats. With the evolution of Polyethylene and Polyurethane foams, mat attenuation characteristics have vastly improved.
With Resilite's long standing history amongst athletic industries, tell us what makes your business unique for customers?
Founded by Warren Tischler in 1959, Resilite has always been a family-owned business that focuses on the quality and performance of our products. Over the last 60 years, Resilite has developed a wide variety of mat and padding solutions for sport and recreational activities. And now, we have the flexibility and capacity to manufacture a wide range of custom mats and padding products for sport, commercial, industrial, and home use applications.
For more information or for pricing on your project, please email scott@resilite.com.