Lisa Mitzel with USA National Staff Coach, Steve Arkell
To help young athletes in the learning process, especially when they are determined and self-critical, we need to be patient. Mistakes are part of the process, and "letting athletes make mistakes and go at their own pace," says Steve, is the best approach. Model patience, trust in the learning process, and your athletes will be more positive, resilient, and successful. Thanks to Steve and Gabby Arkell, owners and coaches at Maverick's Gymnastics, for endorsing my book,
Focused and Inspired,
and spreading positive coaching methods for our athletes to be safe and successful.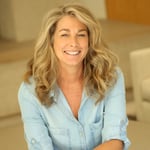 Lisa Mitzel, Author, Mental Training Coach, Former Stanford Gymnastics Head Coach, NCAA National Champion, and Advocate for Athlete Safety.
For consults and clinics, reach Lisa at HeyMitz@gmail.com.
Written and recorded by Lisa Mitzel.