The 2019-2020 award season has been kind to us, as we have taken home 9 honors in marketing and communications.
Honoring work that transcends innovation and craft, The Communicator Awards is the leading international awards program recognizing big ideas in marketing and communications. The Communicator Awards receives over 6,000 entries from companies and agencies of all sizes, making it one of the largest awards of its kind in the world.
The Communicator Awards is sanctioned and judged by the Academy of Interactive & Visual Arts, an invitation-only group consisting of top-tier professionals from organizations such as Coach, Disney, The Ellen Degeneres Show, Estee Lauder, Lockheed Martin, MTV Networks, Time Inc, Victoria's Secret, Wired, and Yahoo!, and many more.
The Award of Excellence, the highest honor, is given to those entrants whose ability to communicate positions them as the best in the field. The Award of Distinction is presented for projects that exceed industry standards in quality and achievement.
Resilite's 2020 Communicator Award Winning Entries: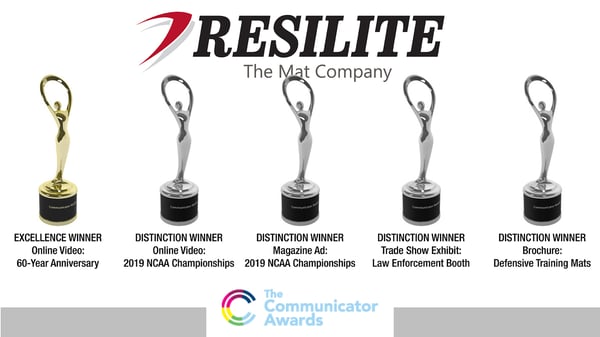 Hermes Creative Awards is one of the oldest and largest creative competitions in the world. An international competition for creative professionals - winners range in size from individuals to media conglomerates, and fortune 500 companies.
Hermes Creative Awards honors the messengers and creators of the information revolution. Armed with their imaginations and computers, Hermes winners bring their ideas to life through traditional and digital platforms.
Each year, competition judges evaluate the creative industry's best publications, branding collateral, websites, videos, and advertising, marketing and communication programs.
Resilite is the recipient of 4 Hermes Creative Awards and 1 honorable mention for marketing efforts during 2019.
Entries for the 2020 Hermes Awards were as followed: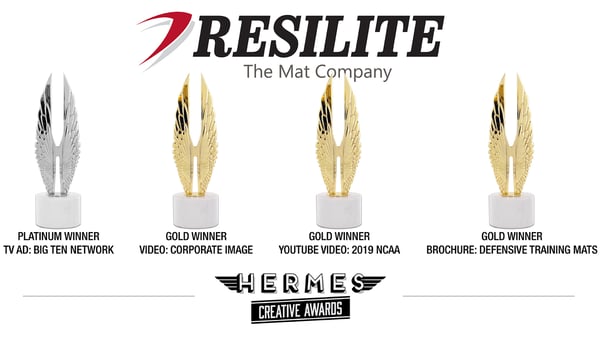 "On behalf of the marketing and graphics department, want to thank everyone at Resilite for their support during our creative processes. The openness to be creative, try new things, and collaborate as a team empowers all of us to be successful and showcase the Resilite brand; winning these awards is proof of that." -Shane Bierly, Director of Marketing
Winning these awards adds fuel to the creative fire that'll keep all of us at Resilite striving to be better with each ad, display, video we produce.
---
Resilite™ Sports Products is a world leader in manufacturing athletic mats and customized padding for a variety of industries, such as wrestling, gymnastics, cheer, law enforcement and martial arts. With nearly 60 years of experience, Resilite Sports Products offers a variety of athletic mats, wall padding, and sports products to meet a variety of needs for all types of athletic facilities as well as other market segments. For more information about any of the products offered by Resilite you may visit the website at: www.resilite.com or contact them toll free at: 1-800-THE-MATS ( 1-800-843-6287 ).